Average Funeral Cost
In order to determine the average funeral cost, you should know what basic expenses are calculated. Having this information can help you and your family decide between funeral service providers.
Determining Funeral Costs
The average funeral costs often associated with funeral services include basic fees, additional service charges and cash advances.
Basic Service Fees for the Funeral Home Director and Staff
The FTC Funeral Rule allows funeral service providers to charge a basic services fee that must be paid. This fee includes funeral costs which are common to all funerals, regardless of the specific arrangement. These fees include the funeral planning process (from service to burial); securing all necessary permits and copies of death certificates, preparing the notices, sheltering the remains, and coordinating arrangements with the cemetery, crematory or other third parties. The basic service fee does not include charges for optional services or merchandise.



Charges for Other Services and Merchandise
These are funeral costs associated with optional products and services. This would include such items as tansporting the remains; embalming and other forms of funeral preparation; the use of the funeral home for the viewing, ceremony or memorial service; the use of equipment and staff for a graveside service; use of vehicles such as hearses or limousines; the casket, the outer burial container or any alternate container; and cremation or interment.



Cash Advances
These are funeral expenses charged by the funeral home for products and services it buys from outside vendors on your behalf. This would include flowers, obituary notices, pallbearers, officiating clergy, and organists and soloists. Some funeral providers charge you their cost for the items they buy on your behalf - others may also add a service fee to this cost. The Funeral Rule requires those who charge an extra fee disclose this information in writing, although it doesn't require them to specify the amount of their markup. This rule also requires that funeral service providers tell you if there are refunds, discounts or rebates from the supplier on any cash advance item.



Calculating Actual Funeral Costs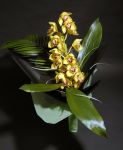 The funeral provider must give you an itemized statement of the total cost of the funeral goods and services you have selected after you have made a decision. If the cost of the cash advance items is not known at the time, you are required to receive a written "good faith estimate." This statement also must include any legal, cemetery or crematory good or service requirements purchased directly by you. The Funeral Rule does not require any specific format for this information and funeral services providers may include it in any document they provide you which lists the agreed upon funeral arrangements.
Now that you have know about the different types of funerals, the average funeral costs involved and your rights under federal law, it is time to work with a funeral director to explore the options available to you. Step 4: Choosing a Funeral Service Provider.
This Website uses a variety of resources and is not intended to substitute or replace the professional advice or services that you receive from a funeral specialist. The content provided here is for informational purposes only.