Celebrity Funerals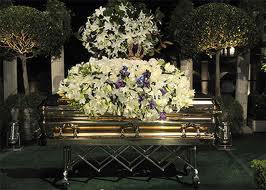 Celebrity Funerals - Michael Jackson
Death is a fact of life for everyone. Whether your a spiritual being looking forward to an everlasting life in the heavens or an atheist, who believes nothing happens after death, life on earth as we know it ends the moment we cease to breathe. For many of us, upon death, our family and loved ones gather in our memory to celebrate and offer solace to each other during a difficult time. Mahogany caskets, elaborate floral arrangements, lots of food and drink are often the ritualistic items used to commemorate the moment. And celebrities are no different.
For many celebrities who pass away, their funeral is not only a time for family and close friends to gather, but at times, can become a spectacular gathering of fans from all around the globe. Princess Diana, Michael Jackson, Selena and Elvis Presley are just a few celebrities which come to mind. They had a following that was almost iconic - in both the sheer number of fans and the outpouring of support from around the world.
Immediately after the death of Princess Diana, many places around the world became ad hoc memorials, allowing the public to leave flowers and other tributes in her honor. There would also be several permanent memorials created in her name throughout London. The memorial service organized by The King of Pop, Michael Jackson's concert promoter, AEG Live, had them giving away 17,500 free tickets to fans worldwide through an online lottery that attracted over 1.2 million applicants in 24 hours.1 So many people loved Selena that over 50,000 lined up for about 1 mile to say goodbye for the last time, while Elvis Presley had over 80,00 fans lining the streets of Graceland Estate for his funeral in Memphis, Tennessee. And the list goes on. Below are some of the most popular funerals of the 21st century. While many of the individuals on the list are recognized and honored for their work and talents, one or two others may not have been seen as quite so worthy. The commonality is that each had a funeral service that was so large in attendance, that it was considered celebrity in nature.
1Allen, Nick (July 6, 2009). "Thirteen applications per second for Michael". The Daily Telegraph (London: telegraph.co.uk)
Famous Celebrity Funerals
This Website uses a variety of resources and is not intended to substitute or replace the professional advice or services that you receive from a funeral specialist. The content provided here is for informational purposes only.