John Gotti Funeral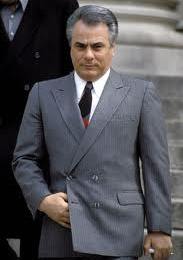 John Gotti Funeral
John Gotti Jr, born October 27, 1940 and nicknamed both the "Teflon Don" and "Dapper Don," was buried Saturday, June 15, 2002, as onlookers lined the streets to catch a glimpse of the "larger than life" funeral procession carrying the legendary mob boss. Mourned in a non-church, private service and taken to a cemetery that also held other notable mobsters. Gotti, best known for his movie star panache, swagger and elegance, was laid to rest in much the same way he lived his life - in style.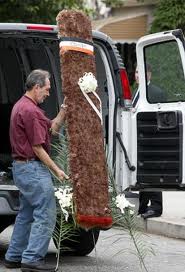 Several helicopters hovered above the massive funeral procession of about 100 cars, including a stream of black limousines and nearly two dozen flower cars holding floral arrangements fashioned into a cigar, royal flush and martini glass with olives. Spectators gathered early to say their farewells and photographers perched on ladders trying to get a shot of the man who left a trail of bodies behind as he climbed the ranks of the Gambino crime family.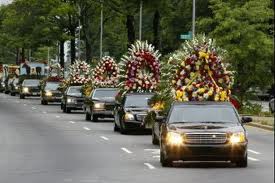 John Gotti Funeral Motorcade
Gotti, the boss of one of the most ruthless and richest of America's organized crime families, the Gambino Crime family, died Monday, June 10, 2002, at a federal prison hospital after complications from cancer, serving a life sentence. His funeral was held in a nonchurch facility. The service was not a Christian Mass, as the family had hoped, due to Roman Catholic Bishop Thomas Daily, head of the Diocese of Brooklyn, ruling that Gotti was not entitled to a funeral Mass. At issue was a church precept called "scandal" - the idea that the wrong message would be sent to the church faithful by granting a funeral Mass to someone who lived outside church teachings. The denial was not a judgment on the deceased's lifestyle, since the church believes only God can make that determination. He was however, allowed burial in a Catholic cemetery, the same cemetary where other notable mobsters, such as Carlo Gambino, Joseph Profaci, Carmine Galante, and the infamous mobster Charles "Lucky" Luciano would be buried.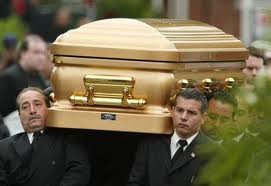 John Gotti Funeral Pallbearers
After the private service, Gotti's brother, Richard, nephews and best friends carried his bronze casket from the Papavero funeral home. An estimated 300 onlookers followed the procession, which passed by Gotti's home and then the Gotti's Bergin Hunt and Fish Club, the social club Gotti and his crew frequented, before arriving at St. John's Cemetary in Middle Village Queens. Gotti's final resting place would be in a family crypt inside St. John's mausoleum, next to his son, Frank, who died at age 12 when struck by a neighbor's car near his home. Though ruled blameless by police, the neighbor was abducted weeks later and his body has never been found.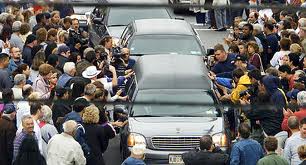 John Gotti Funeral
Many aspects of John Gotti's life resembled Hollywood television and movie hits about mobsters, sparking a curiosity among the public and gaining him celebrity-like status. That curiosity carried over into his death. Many spectators at the cemetery said they had admired the notorious mobster, nicknamed the "Teflon Don" for his longtime ability to avoid conviction and the "Dapper Don" for his expensive suits. To some, he was notorious. To some in law enforcement, he was considered infamous. But, according to his lawyer, Bruce Cutler, "he was a sincere man, a remarkable man, an extraordinary man, a man that caused all this attention not because of the government allegations but because of the way he carried himself and the way he lived his life."
Gotti's brother Peter Gotti was unable to attend owing to his incarceration and is believed to have formally succeeded his brother as Gambino boss.
Related Articles
John Gotti Funeral Sources
Final Farewell To Gotti February 11, 2009, Brian Dakss, http://www.cbsnews.com/stories/2002/06/14/national/main512202.shtml
This Website uses a variety of resources and is not intended to substitute or replace the professional advice or services that you receive from a funeral specialist. The content provided here is for informational purposes only.