The Teflon Don

The Teflon Don
Despite his promotion as Capo of the Bergin crew, John Gotti would quickly became dissatisfied with Paul Castellano's leadership, considering the new boss too isolated and greedy. After the indictment of several crew members, he would take advantage of the growing dissent over the leadership of the crime family. Fearing that he and his men would be killed by the Gambino crime family Boss for selling drugs, Gotti would organize his murder and subsequently, take over the family.
The Teflon Don Takes Over the Family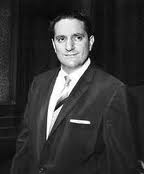 Paul Castellano
In 1984 Castellano was arrested and indicted in a RICO case for the crimes of Gambino hitman Roy DeMeo's crew. The following year he received a second indictment for his role in the American Mafia's Commission. Facing life imprisonment, he arranged for John Gotti to serve as acting boss alongside Thomas Bilotti, Castellano's favorite capo, and Thomas Gambino in his absence. Gotti, meanwhile, began conspiring with fellow disgruntled family members Sammy Gravano, Frank DeCicco, Robert DiBernardo and Joseph Armone to overthrow him.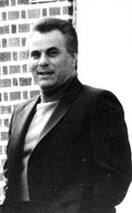 The Teflon Don
In August 1983 Ruggiero and Gene Gotti were arrested for dealing heroin, based primarily on recordings from a bug in Ruggiero's house. The drug charges infuriated Castellano, who punished illegal drug dealing with a penalty of death. He demanded transcripts of the tapes, and when Ruggiero refused, he threatened to demote Gotti. As captain, Gotti knew he would be held responsible for the transgressions of his crew. To smooth over the situation with Castellano, Gotti asked Aniello Dellacroce to speak to the boss on his behalf. But before an understanding could be reached, Dellacroce would die of cancer on December 2, 1985. All goodwill between Castellano and Gotti dissolved when Castellano didn't attend Dellacroce's funeral. Gotti saw the behavior as disrespectful and, according to later testimony, decided to take action.
After Dellacroce's death, Castellano revised his succession plan: appointing Bilotti as underboss to Thomas Gambino as the sole acting boss, while making plans to break up Gotti's crew. Infuriated by this, and Castellano's refusal to attend Dellacroce's wake, Gotti resolved to kill his boss.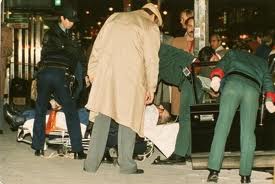 The Setup
Gotti agreed to a meeting with Castellano and Bilotti at Sparks Steak House on December 16, 1985. When the boss and underboss arrived, they were ambushed and shot dead by assassins under Gotti's command. From his vehicle, Gotti and Sammy Gravano watched the hit. John Gotti would be proclaimed the new boss of the Gambino family at the meeting of the family's capos on December 30, 1985. He appointed his co-conspirator, DeCicco as the new underboss, while retaining Castellano's consigliere Joseph N. Gallo. Identified as both Paul Castellano's likely murderer and his successor, John Gotti rose to fame throughout 1986.
Upon the news of his attacker's occupation, and amid reports of intimidation by the Gambinos, Romual Piecyk decided not to testify against Gotti. When the trial began in March 1986, he testified that he was unable to remember who attacked him. The case was promptly dismissed, with the New York Daily News summarizing the proceedings with the headline "I Forgotti!"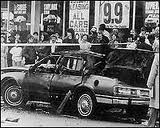 Frank DeCicco's Vehicle
On April 13, 1986, underboss DeCicco would be killed when his vehicle would be bombed, following his visit to Castellano loyalist James Failla. The bombing was carried out by Lucchese capos Victor Amuso and Anthony Casso, under orders of bosses Anthony Corallo and Vincent Gigante, to avenge Castellano and Bilotti by killing their successors. John Gotti had also planned to visit Failla that day but canceled, and the bomb was detonated after a soldier who rode with DeCicco was mistaken for the boss. The use of bombs, banned by the American Mafia, cleared Gigante of suspicion from Gotti.
Following the bombing, Judge Eugene Nickerson, presiding over Gotti's racketeering trial, rescheduled to avoid a jury tainted by the resulting publicity, while Giacalone had Gotti's bail revoked due to evidence of intimidation in the Piecyk case. From jail, Gotti ordered the murder of Robert DiBernardo by Sammy Gravano, having been told by Ruggiero that DiBernardo had challenged his leadership. He also promoted Joseph Armone to replace DeCicco.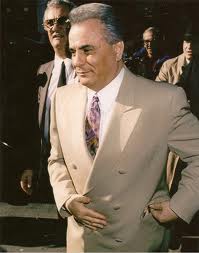 The Teflon Don
By August of 1986, John Gotti had become something of a local hero and icon in his Howard Beach neighborhood. It is estimated that, while he acted as boss, the Gambino family made more than $500 million in revenue from construction, hijacking, loan sharking, gambling, drug trafficking, extortion, stock fraud, and other criminal activities. He was considered one of the most powerful crime bosses during his era and became widely known for his outspoken personality and flamboyant style. While his peers would go out of their way to shun attention, Gotti would become known as the "The Dapper Don" for his expensive clothes and personality in front of news cameras. He would later be given the nickname "The Teflon Don" because of the numerous attempts to convict him of crimes in the 1980s, resulting in either a hung juries or acquittals.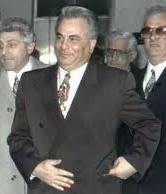 The Teflon Don
When it came time to face trial for the racketeering charges, Gotti and the other defendants would be acquitted of their crimes. FBI officials later discovered that the jury foreman fixed the verdict. It was a crushing defeat for law enforcement officials, and Gotti became the mob's symbol of invincibility, earning the name "Teflon Don" because charges against him "just wouldn't stick."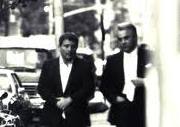 Sammy Gravano, John Gotti
The FBI would turn the conviction of Gotti into an organizational crusade. After pressuring the Gambino family's new underboss, Sammy Gravano, into testifying against Gotti, the mob leader would finally be convicted of murder and racketeering on April 2, 1992.
Next: Bringing Down the Don
Related Articles
The Teflon Don Sources
John Gotti. (2011, August 13). In Wikipedia, The Free Encyclopedia. http://en.wikipedia.org/w/index.php?title=John_Gotti&oldid=444716571
Biography.com–John Gotti, http://www.biography.com/articles/John-Gotti-9542186
This Website uses a variety of resources and is not intended to substitute or replace the professional advice or services that you receive from a funeral specialist. The content provided here is for informational purposes only.