John Gotti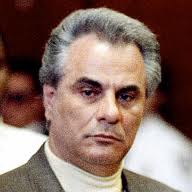 John Gotti
John Joseph Gotti, Jr, aka "Teflon Don", was an American mobster who became the Boss of the Gambino crime family in New York City. Born October 27, 1940 in the Bronx, he was the fifth of thirteen children to Italian immigrants, John Joseph Gotti Sr. and his wife Philomena. Operating out of the Ozone Park neighborhood of Queens, Gotti quickly rose in prominence, becoming one of the crime family's biggest earners and a protege of Gambino family underboss Aniello Dellacroce.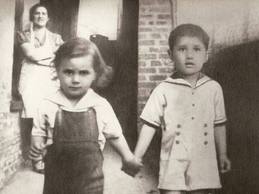 His father, who worked irregularly as a day laborer and indulged in gambling, was resented by Gotti for being unable to provide for the family. Growing up in poverty, his family would move frequently before settling in East New York, an area known at the time for its youth gang activity. He and his brothers would soon turn to a life of crime. By the age of 12, Gotti would became involved in street gangs associated with New York mafiosi - working as an errand boy for an underground club in the neighborhood run by Carmine Fatico. Fatico was a captain in the local Gambino crime family, the largest of the five organized crime families in New York City. Through his activities with the club, Gotti met Aniello Dellacroce, who became his life-long mentor.
Gotti soon became the leader of a gang called the Fulton-Rockaway boys, a group known for their frequent robberies and car-jackings. At the age of 14, while attempting to steal a cement mixer from a construction site, he would be injured when the mixer would fall, crushing his toes. This would lead him with a permanent limp, giving him his trademark gait, as well as earning him another incident on his list of petty crimes.
Considered a bully and constant discipline problem at Franklin K. Lane High School, at the age of 16, he would drop out and devote himself more to working with the Fulton-Rockaway Boys, where he met and befriended fellow future Gambino mobsters, Angelo Ruggiero and Wilfred "Willie Boy" Johnson. By the age of 18, the police department ranked John Gotti as a low-level associate in the Fatico crew.
Between 1957 and 1961, Gotti pursued a life of crime on a full-time basis. His arrest record included street fighting, public intoxication, and car theft. By his 21st birthday, Gotti had been arrested five times, but served little jail time.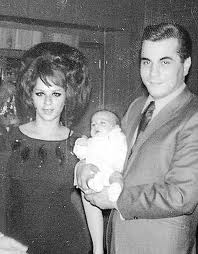 John and Victoria Gotti
On March 6, 1962, Gotti married Victoria DiGiorgio. The marriage produced five children: two daughters, Angela and Victoria, and three sons, John, Frank and Peter. In the early years of their marriage, they fought constantly and separated numerous times. Gotti would attempt to work legitimately as a presser in a coat factory and as an assistant truck driver, but could not stay crime free and by 1966 would be jailed twice. When he and his family made the move to Ozone Park in Queens, New York, the budding criminal quickly became a major player in the Gambino hijacking crew.
Gotti's criminal career would begin when he joined Carmine Fatico's crew, part of the Gambino family. Together with his brother Gene and Ruggiero, Gotti carried out truck hijackings at JFK Airport. During this time, he also befriended fellow mob hijacker and future Bonanno family boss Joseph Massino and was given the nicknames "Black John" and "Crazy Horse."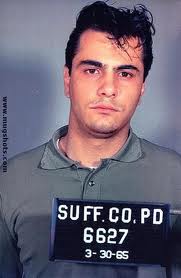 John Gotti
In February 1968, United Airlines employees identified Gotti as the man who had signed for stolen merchandise; the FBI arrested him for the United hijacking soon after. Two months later, while out on bail, Gotti was arrested a third time for hijacking a load of cigarettes worth $50,000, on the New Jersey Turnpike. Later that year, he plead guilty to both Northwest Airlines and United hijackings and would serve his first major sentence. All three men were convicted for committing cargo thefts near John F. Kennedy Airport and sentenced to three years at Lewisburg Federal Penitentiary. Prosecutors would drop the charges for the cigarette hijacking.
While Gotti served his time, the Fatico crew moved from East New York to a storefront near Gotti's home in Queens. The group's headquarters was disguised as a non-profit organization called the Bergin Hunt and Fish Club. After his release, Gotti returned to his old crew at the Bergin Hunt and Fish Club, still operating under caporegime Carmine Fatico. In 1972, Fatico, facing loansharking charges, appointed Gotti, still not yet a made man in the Mafia, the acting capo of the Bergin Crew, reporting to Carlo Gambino and his underboss, Aniello Dellacroce.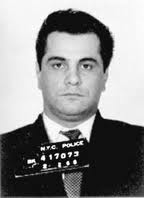 John Gotti
In May of 1973, while Gotti was captain of Fatico's crew, he committed his first murder: the shooting death of Jimmy McBratney, a rival gang member. After Carlo Gambino's nephew Emanuel Gambino was kidnapped and murdered, John Gotti was assigned to the hit team, alongside Ralph Galione and Angelo Ruggiero for the main suspect, Irish-American gangster James McBratney, but he was less than discreet, leaving multiple witnesses at the scene of the crime. Identified by eyewitnesses and a police Bergin insider, Gotti was arrested for the killing in June 1974. At his trial three years later, with the help of attorney Roy Cohn, he was able to strike a plea bargain and served only four years in prison for attempted manslaughter.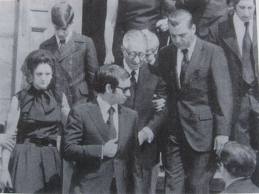 Carlo Gambino Funeral
In 1976, the head of the Gambino family, Carlo Gambino, dies, and his brother-in-law, Paul Castellano, is put in charge of the family. In a gesture of goodwill, Castellano allows Dellacroce to remain the family's underboss, giving him control over 10 of the 23 Gambino crews. Upon John Gotti's release from prison in July 1977, after serving two years, he is initiated into the Gambino family, now under the command of Paul Castellano. He is immediately promoted to replace Fatico as Capo of the Bergin crew. He and his crew reported directly to Dellacroce as part of the concessions given by Castellano to keep Dellacroce as underboss, and Gotti was regarded as Dellacroce's protege.
On March 18, 1980, Gotti's youngest son, 12-year-old Frank Gotti, would be run over and killed on a family friend's minibike by John Favara, a neighbor. While Frank's death was ruled an accident, Favara subsequently received death threats and, when he visited the Gotti family to apologize, be attacked by Victoria Gotti with a baseball bat. According to witnesses, Favara endured four months of death threats until July 28, 1980, the day he was clubbed over the head and shoved into a van. While Gotti and his family were on vacation in Florida at the time, and denied any knowledge of his whereabouts, to this day, John Gotti is still presumed to have ordered the killing.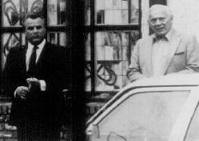 John Gotti, Aniello Dellacrose
Under Gotti, the Bergin crew were the biggest earners of Dellacroce's crews. Besides his cut of his subordinates' earnings, Gotti ran his own loan sharking operation and held a no-show job as a plumbing supply salesman. Unconfirmed allegations by FBI informants in the Bergin Hunt and Fish Club claimed Gotti also financed drug deals. By the early 1980s, John Gotti's prominence in the Gambino family had earned unwanted attention from mob boss, Castellano. He considered Gotti's $30,000-a-night gambling habit a liability, and he also disapproved of the Bergin captain's unpredictable behavior. Gotti's activities also caught the eye of federal agents who, unbeknownst to the mobster and his crew, installed surveillance equipment in the Bergin club in 1981.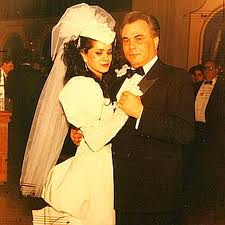 Victoria Gotti's Wedding
In his last two years as the Bergin Capo, John Gotti would be indicted on two occasions, with both cases coming to trial after his ascension to Gambino Boss. In September 1984, Gotti was in an altercation with refrigerator mechanic Romual Piecyk, and was subsequently charged with assault and robbery. In 1985 he was indicted alongside Dellacroce and several Bergin crew members in a racketeering case by Assistant US Attorney Diane Giacalone. The indictment also revealed that Gotti's friend "Willie Boy" Johnson, one of his co-defendants, had been an FBI informant.
Next: Taking over the Family

Related Articles
John Gotti Sources
John Gotti. (2011, August 13). In Wikipedia, The Free Encyclopedia. http://en.wikipedia.org/w/index.php?title=John_Gotti&oldid=444716571
Biography.com–John Gotti, http://www.biography.com/articles/John-Gotti-9542186
This Website uses a variety of resources and is not intended to substitute or replace the professional advice or services that you receive from a funeral specialist. The content provided here is for informational purposes only.