Princess Diana Funeral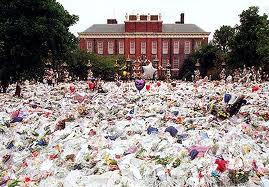 Princess Diana Funeral
The Princess Diana death would be met with extraordinary public expressions of grief and sorrow. Her funeral drew an estimated 3 million mourners and onlookers in London, as well as worldwide television coverage, overshadowing the news of the previous day, the death of Mother Teresa.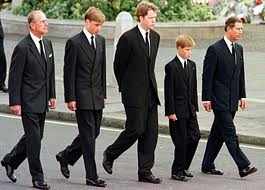 On September 5th, Queen Elizabeth II paid tribute to her in the form of a live television broadcast. On September 6th, the day of her funeral, her sons, Princes William and Harry, would walk in the funeral procession behind her coffin, alongside the Prince of Wales, the Duke of Edinburgh and Diana's brother, Charles Spencer.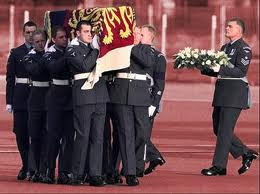 Princess Diana Funeral
On this day, the tenor bell sounded, signaling the departure of the cortege from Kensington Palace. The coffin was carried from the palace on a gun carriage, along Hyde Park to St. James' Palace, where Diana's body had lain in state for five days before being taken to Kensington Palace. The Union Flag on top of the palace was lowered to half mast. The official ceremony would be held at Westminster Abbey in London, while the final resting place would be in Althorp.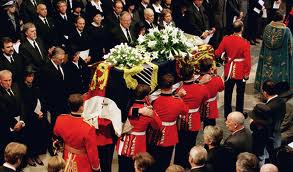 Princess Diana Funeral
2,000 people would attend the Princess Diana funeral in Westminster Abbey. The British television audience peaked at 32.78 million - the United Kingdom's highest viewing figures ever. Two billion people traced the event worldwide, far more than the Princess Diana wedding, making it one of the most watched events in television history.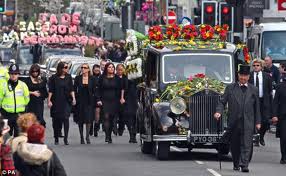 Princess Diana Funeral
Diana's funeral was not a state funeral, but a national public funeral which included royal pageantry and Anglican funeral liturgy. Piles of flowers adorned the gates of Kensington Palace. Eight members of the Welsh Guards accompanied the coffin, draped in the royal standard with an ermine border, on the 1 hour and 47 minute ride through the streets of London. At St. James' Palace, Prince Philip, Prince Charles, Prince William,Prince Harry and the Earl Spencer joined to follow behind. Five hundred representatives of the various charities the Princess had been involved with would join behind them in the funeral cortege.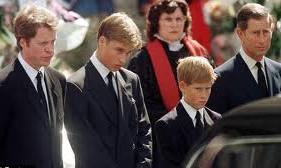 Princess Diana Funeral
The ceremony opened at 11:00 BST and lasted one hour and ten minutes. During this time, the royal family would place wreaths alongside Diana's coffin in the presence of Princess Michael of Kent, former UK Prime Ministers Margaret Thatcher and Edward Heath, and former Conservative MP Winston Churchill, grandson of Prime Minister Sir Winston Churchill. The guests included Sir Cliff Richard, Hillary Clinton, Henry Kissinger, William Crowe, Bernadette Chirac, Queen Noor of Jordan, Tom Hanks, Steven Spielberg, Elton John, George Michael, Tom Cruise and Nicole Kidman. The Prime Minister Tony Blair had read an excerpt from the First Epistle to the Corinthians: "And now abideth faith, hope, love, these three; but the greatest of these is love". Among other invitees were Juan Carlos I of Spain, Princess Margriet of the Netherlands, Constantine II of Greece, Naruhito, Crown Prince of Japan with Crown Princess Masako and Nelson Mandela.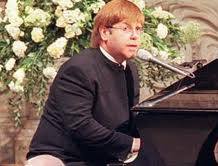 Princess Diana Funeral
The Archbishop of Canterbury George Carey and the Dean of Westminster Wesley Carr were also present in the abbey. The Anglican service opened with the traditional singing of "God Save the Queen". Musical selections of Johann Sebastian Bach, Antonín Dvorák, Camille Saint-Saëns, Gustav Holst and other composers would be played throughout the ceremony. Elton John would sing, "Candle in the Wind," re-written in tribute to Diana, by his writing partner, Bernie Taupin. Only a month before her death, Diana was photographed comforting John at the funeral of their mutual friend, Gianni Versace.
The London's Foreign Press Association would report receiving more than five hundred requests for credentials to cover Diana's funeral ceremony.
The Burial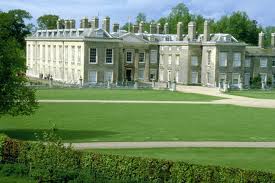 Princess Diana Funeral
As part of custom, Princess Diana should have been interred in the hamlet of Great Brington at the Church of St. Mary the Virgin with her ancestors. But, due to concerns over public safety and security, and the onslaught of visitors that might overwhelm Great Brington, the Spencer family decided on Althorp, the Spencer family home for centuries. It was decided that Diana be buried where her grave easily be cared for and visited in privacy by William, Harry, and other Spencer relatives.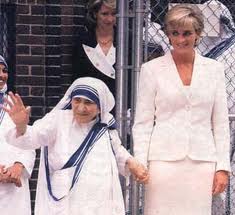 Mother Teresa, Princess Di
The burial service would be a private event, following the funeral services. In attendance would be Prince Charles, her sons, her mother, her siblings, a close friend and a clergyman. Her body was clothed in a black, long-sleeved dress designed by Catherine Walker, which she'd chosen weeks before. A set of rosary beads was placed in her hands - a gift she had received from Mother Teresa, who died the same week. Diana's grave is on an island, situated in an ornamental lake known as The Ground Oval, 2.283082° N 1.000278° W), within the gardens of Althorp Park.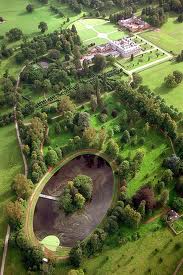 Althorp Park
A path with thirty-six oak trees, each year of Diana's life, leads to the Oval. Four black swans swim in a lake filled with water lilies, which in addition to white roses, were her favorite flowers. On the southern verge of the Round Oval sits the Summerhouse. Previously situated in the gardens of Admiralty House, London, the Summerhouse was adapted to serve as a memorial to Diana. An ancient arboretum stands nearby, which contains trees planted by Diana, William, Harry, and family members.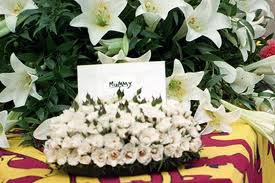 Princess Diana Funeral
Related Articles
Princess Diana Funeral Sources
Diana, Princess of Wales. (2011, August 13). In Wikipedia, The Free Encyclopedia. http://en.wikipedia.org/w/index.php?title=Diana,_Princess_of_Wales&oldid=444695719
Funeral of Diana, Princess of Wales. (2011, August 7). In Wikipedia, The Free Encyclopedia. http://en.wikipedia.org/w/index.php?title=Funeral_of_Diana,_Princess_of_Wales&oldid=443451252
This Website uses a variety of resources and is not intended to substitute or replace the professional advice or services that you receive from a funeral specialist. The content provided here is for informational purposes only.