June Carter Cash Funeral
June Carter Cash
June Carter Cash Funeral Quote:
"if being a wife were a corporation, June would have been a CEO. It was her most treasured role."
June Carter Cash, best known for singing and songwriting, was born Valerie June Carter on June 23, 1929, in Maces Springs, Virginia. But in addition to singing and song writing, she was also an author, dancer, actress, comedienne, philanthropist and humanitarian.
The daughter of Ezra and Maybelle Carter, June was born into the first family of country music. She and her sisters, Helen and Anita, would perform as the Carter Sisters. On July 5, 1952, June married Carl Smith, with whom she performed at Nashville's Grand Ole Opry and gave birth to Rebecca Carlene Smith, aka Carlene Carter. After divorcing in 1956, she went on to tour with Elvis Presley. It was during this period that she briefly married Edwin "Rip" Nix, a former football player, police officer, and race car driver, on November 11, 1957, with whom she would give birth to another daughter, Rosanna Lea she would call Rosie, on July 13, 1958. They would divorce in 1966 and their daughter would die the same year as her mother, October 24, 2003, from possible carbon monoxide poisoning.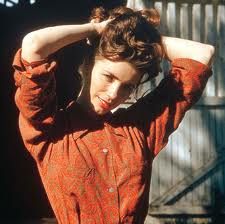 June Carter Cash
During the mid-1950s, June would study acting at The Actor's Studio in New York City, It was Director Elia Kazan who, after seeing her perform at the Grand Ole Opry, encouraged her to study acting. She studied with Lee Strausberg and Sanford Meisner at the Neighborhood Playhouse in New York City, subsequently landing a role in 1958's Country Music Holiday, as well as guest spots on TV westerns and soap operas including Mrs. "Momma" Dewey in Robert Duvall's 1998 movie The Apostle, Sister Ruth, wife to Johnny Cash's character Kid Cole, on Dr. Quinn, Medicine Woman (1993-1997), and Clarise on Gunsmoke in 1957. June was also "Momma James" in The Last Days of Frank and Jesse James. She would also return to music in the early 1960s, joining her mother and sisters, to work with Johnny Cash.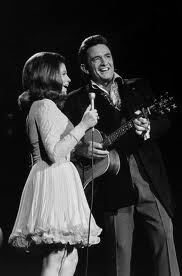 Johnny Cash June and Johnny
Johnny Cash and June Carter would have a number of hits, including "It Ain't Me Babe," "Jackson," and "If I Were a Carpenter." In 1967, they would win a Grammy award in the Best Country & Western Performance, Duet, Trio Or Group category for the song "Jackson". A year later, in 1968, Johnny would propose to June during a live performance at London Arena in London, Ontario. They married on March 1, 1968 and in 1970, in addition to the birth of their son, John Carter Cash, they would win another Grammy in the Best Country Performance by a Duo or Group with Vocal category for the song "If I Were a Carpenter".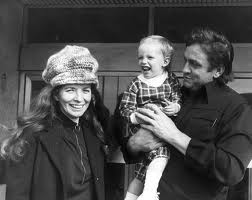 June, Johnny and John
For much of the 1970s and 1980s, June's career would take a backseat to Johnny's. She would publish both an autobiography in 1979, and her memoir, From the Heart, almost 20 years later. In 1999, emerging from what many believed to be her retirement, she would release the album Press On - winning a Grammy for Best Traditional Folk Album. And four years later, in 2003, she would win two more additional Grammys for Wildwood Flower album, released posthumously. The album would win the award for Best Traditional Folk Album and the award for Best Female Country Vocal Performance for the song "Keep on the Sunny Side." The album also contained bonus video of the recording sessions, which took place at the Carter Family estate in Hiltons, Virginia, on September 18-20, 2002.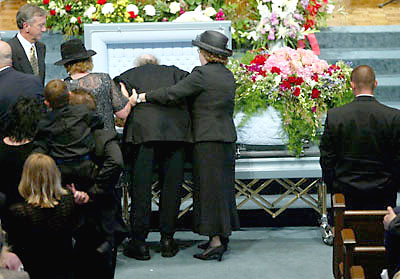 June Carter Cash Funeral
On May 15, 2003, June Carter Cash would die at Baptist Hospital in Nashville, Tennessee, of complications following heart surgery, in the company of her family and her husband of 35 years, Johnny Cash. At the June Carter Cash funeral, her stepdaughter, Rosanne Cash, would state that "if being a wife were a corporation, June would have been a CEO. It was her most treasured role." The same year, on September 12th, Johnny Cash, her beloved husband, would also pass away. Both Johnny Cash and June Carter Cash would be buried in Hendersonville Memory Gardens near their home in Hendersonville, Tennessee.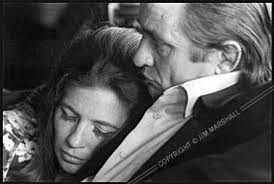 Johnny Cash and June Carter
Two years later, their love story would make made to the big screen in the form of actors Reese Witherspoon and Joaquin Phoenix. The biopic, Walk the Line, would be an Academy Award winning role for Reese Witherspoon. Following this, artists such as Sheryl Crow, Willie Nelson, Loretta Lynn, Rosanne Cash, Emmylou Harris, and Kris Kristofferson would participate in a special tribute recording for June entitled, Anchored In Love (2007), for June Carter Cash. It was also the title of her biography written by her son that would be published that same year. In 2008, June Carter Cash would be inducted into the Christian Music Hall of Fame.
June Carter Cash Funeral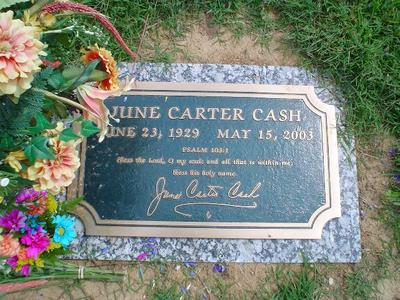 June Carter Cash Funeral
This Website uses a variety of resources and is not intended to substitute or replace the professional advice or services that you receive from a funeral specialist. The content provided here is for informational purposes only.