Elvis Presley Biography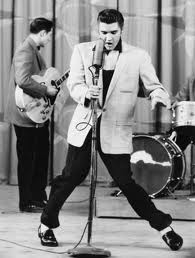 Elvis Presley Biography
With a sound and style that combined his diverse musical influences, blurring and challenging the social and racial barriers of the time, Elvis Presley ushered in a whole new era of American music and popular culture. He would go on to star in 33 successful Elvis Presley movies, make history with television appearances and specials, and garner great acclaim through his many, often record-breaking, live concert performances on tour and in Las Vegas.
Elvis Presley History
Elvis Presley Biography
On January 8th, 1935, Elvis Aaron Presley was born to Vernon and Gladys Presley in Tupelo, Mississippi. Sadly, his twin brother, Jessie Garon, was stillborn, leaving Elvis to grow up as an only child. Yet, despite being an only child, Elvis grew up within a close-knit, working class family, consisting of his parents, grandparents, aunts, uncles, and cousins, who all lived near each other in Tupelo. Despite have little money, his parents did their best to provide for their son, the center of their lives. They would move from one house to another, eventually moving to Memphis, Tenessee in 1948, for better economic opportunities. It was here that Elvis, while working at various jobs to help support himself and his parents, would graduate from Humes High School in 1953.
Elvis' musical influences were comprised of pop, country, gospel and the Rhythm & Blues music he absorbed on the historic Beale Street as a Memphis teenager, and as a regular audience member at the all-night, white and black, gospel sings. In 1954, he began his singing career with Sun Records, the legendary music label in Memphis. In late 1955, his recording contract was sold to RCA Victor but by 1956, Elvis Presley music became an international sensation.
Elvis Presley Biography
Without any of the special privileges his celebrity status might have afforded him, in March 1958, Elvis Presley was inducted into the U.S. Army at the Memphis Draft Board (serial number 53310761), get his famous G.I. haircut at Fort Chaffee, Arkansas and begin basic training for the next six months in Fort Hood, Texas. During this period, his parents would move into a temporary trailer near the Army base, then later move into a house. As for his movie career, his 4th film, "King Creole," had opened nationally and would become a top five film at the box office. Its impressive list of co-stars and supporting cast included Carolyn Jones, Walter Matthau, Dean Jagger and Vic Morrow. Set in New Orleans and based upon the Harold Robbins novel, "A Stone for Danny Fisher," this film came to be regarded as Elvis' finest. It was considered his greatest acting performance, and proof of his potential to have become a respected serious actor.
In August 1958, Elvis' mother would be diagnozed with acute hepatitis and returns to Memphis for hospitalization. Elvis, granted emergency leave, arrives to be at her bedside. Upon the second day following his visit, April 14th, his mother would pass away. At the age of 46. Gladys Presley's funeral services would be held at the Memphis Funeral Home on the August 15th and she is laid to rest at Forest Hill Cemetery, a few miles from Graceland.
Following his mother's death, Elvis returns to his base and on September 19th, boards a troop train to New York, subsequently boarding the USS Randall for Germany. Arriving on October 1st, he is stationed in Friedberg for 18 months. Maintaining an off-base residence in Bad Nauheim, shared with his father, grandmother and some friends from Memphis, he finds the fans in Europe to be as enthusiastic as those in the U.S. This was largely due to the workings of his manager, Colonel Parker, who kept Elvis' career alive with promotions and hit record releases.
Additional Articles
This Website uses a variety of resources and is not intended to substitute or replace the professional advice or services that you receive from a funeral specialist. The content provided here is for informational purposes only.